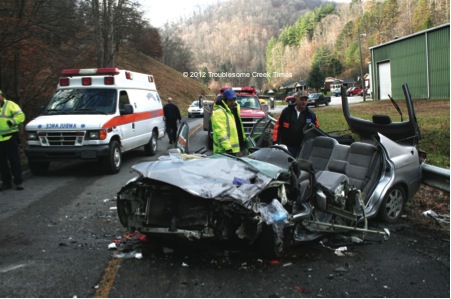 By JORDAN THOMAS HALL
A serious car accident occurred yesterday morning, Wednesday, November 28, in front of TransStar Ambulance Service on Hwy. 160. At approximately 8:23 a.m. Kentucky State Police Post 13 in Hazard received a call of a two-vehicle accident at that location. The accident left Hwy. 160 blocked for over two hours.
According to KSP Trooper Randall Riley, a 2003 silver Kia passenger car, operated by William Melton, 41, of Seals Hollow in Litt Carr was traveling southbound toward Brinkley when it struck a red 2008 Chrysler minivan. It appears Melton crossed the centerline into the path of the van, colliding head-on. The driver of the van, Becky Miller, was transported to Whitesburg ARH.
Melton remained trapped in his vehicle as rescue workers and Kentucky Highway Department employees worked for nearly an hour to free him. Carr Creek Volunteer Fire Department, Ball Creek Rescue Squad, and members of Knott County Fire and Rescue responded alongside TransStar Ambulance Service, KSP, and Knott County Sheriff's Department. Hindman Volunteer Fire Department secured a landing zone at the football field at Knott County Central High School. Melton was flown to UK Medical Center in Lexington for treatment of serious injuries.