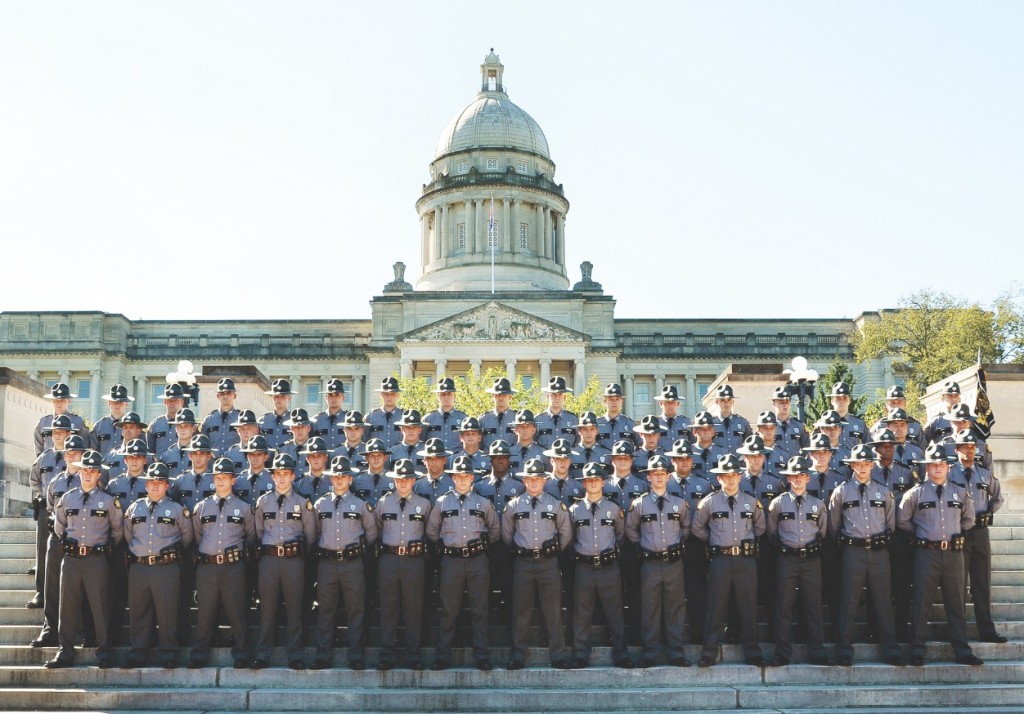 (FRANKFORT, KY. — The Kentucky State Police Academy presented diplomas to 62 new troopers at ceremonies held Tuesday in Frankfort. Their addition to the force brings the agency's strength to a total of 880 troopers serving the citizens of the Commonwealth.
Five of the six new troopers assigned to Post 13 in Hazard are from Knott County: Robert K. Dials of Pinetop; Matthew W. Gayheart of Pinetop; Joshua T. Huff of Mallie; Luke A. Pridemore of Mallie; and Joshua C. Richardson of Irishman. Post 13's sixth new officer is Ora Charles Moore of Viper.
"We appreciate Governor Beshear's continuing support for the public safety mission of the Kentucky State Police by allowing us to continue cadet classes during tough budgetary times," said KSP Commissioner Rodney Brewer. "These 62 new troopers will help replace the 63 troopers who have retired this year. However, manpower challenges remain since our ranks are about 100 troopers below our fully authorized strength. Nonetheless, we are committed to serving the citizen's of the Commonwealth in the most efficient and effective manner possible."
The new troopers are part of the agency's 91st cadet class. They started a 23-week training cycle on June 9, 2013 in a class that consisted of 87 cadets. Twenty-five resigned during the weeks of mental and physical challenges that followed.
The training included more than 1,000 hours of classroom and field study in subjects such as constitutional law, juvenile and traffic law, use of force, weapons training, defensive tactics, first aid, high speed vehicle pursuit, criminal investigation, computer literacy, hostage negotiations, evidence collection, radio procedures, search and seizure, crash investigation, drug identification, traffic control, crowd control, armed robbery response, land navigation, electronic crimes, sex crimes, hate crimes, domestic violence, bomb threats and hazardous materials.
Several members of the class earned special recognitions including valedictorian Corey Rich, of Williamstown, Ky., and salutatorian Steven Dykes, of Crestwood, Ky.
Dykes also received the Ernie Bivens Award, an honor presented to the cadet who, in the opinion of the KSP Academy staff supported by input from the cadets themselves, shows distinction as a class leader, strives for academic excellence and has excelled in all phases of the academy's physical and vocational training.
Andrew Bratcher, of Leitchfield, Ky., received the Commissioner's Commitment to Excellence Award, which is presented to cadets who demonstrate leadership, the desire to get the job done and the determination to be the best every day.
Sam Faris, of Corbin, Ky., and Forest Newsome, of Richmond, Ky., received Overall Fitness Awards. Austin Brashear, of Richmond, Ky., received the Most Improved Fitness Award.
The new troopers will be supervised by a training officer for six to eight weeks after reporting to their post assignments.
Find the Troublesome Creek Times at local stores in Knott and surrounding counties or subscribe to the Times at (606)-785-5134